After three years as a Post Office truck driver, and five as a rail-road carman mechanic, PAUL JAY decided it was time to make films. Twenty years later, he's still at it.

Jay's last major work was "Hitman'Hart: wrestling with shadows", a feature documentary on the famous wrestler. The film was screened in more than thirty major festivals and won more than a dozen gold awards. Other work includes "Justice Denied" (Turner), "The Life and Death of Owen Hart" (TVO, A&E) "Never-Endum Referendum, (CTV, SRC, Arte), Albanian Journey: End of an Era (TVOntario, CBC Witness), The Birth of Language (TVOntario and Discovery U.S.), 'Here's to the Cowboy' (CBC, Disney, London Weekend, Central TV). Jay produced 'Through Thick and Thin' (CBCNewsworld), 'Machine GUn' (3x1 Discovery Canada & US), and 'The Famine Within' (TVO).

Jay was the creator and executive producer of CBC Newsworld's flagship debate program counterSpin, now in it's third season of nightly prime time witty debate about the news of the day.

A past chair of the Canadian Independent Film Caucus,t he main organization of documentary filmmakers in Canada, Jay is the founding chair of Hot Docs!, Canada's national documentary film festival.

He is currently in development on several fiction projects including 'In Your Dreams', 'The Sunroom' and 'Wrestling with Shadows.' Jay was born and raised in Toronto.
SOMETHING WONDERFUL HAS HAPPENED
BUT IT WAS NOT IN THE NEWS
51:00
Writer, Director, Producer, Musical score: Ian Christopher
Director of Videography: Peter Sorensen
Editor: D. Robert Cunningham
Narration: Marc Landy
Produced by:Mariposa-Pacific Research Institute
Palo Alto, CA
IAN CHRISTOPHER is an Independent Researcher and Analyst who has spent 30 years obtaining and studying hidden and suppressed information in such diverse fields as science, medicine, politics, economics and law. His varied interests have generated several career paths. He spend two decades as a musician and recording artist, creating ambient and instrumental music soundscapes that preceeded the advent of the "New Age Music" category. During this same period, Mr. Christopher was an International Air Freight Agent and Documentation Specialist for major international airlines. He was certified to prepare hazardous materials for shipment by air.

Mr. Christopher specialized in the exporting of Silicon Valley's high technology to foreign countries in the 1980's. His work included interfacing with the Federal Aviation Agency and the U.S. State Department to arrange for sensitive military shipments overseas. He then went on to become an Operations Officer for a Bay Area start-up company which designed sophisticated computer network systems for well-known American firms. As a side note, one of his government end-user clients was located in the middle of an isolated desert region in Nevada....better known today as the Area 51 Research Facility.

Ian's interest in politics and legal issues caused him to change careers to study Constitutional Law. As a political activist, Mr. Christopher went to work for several legal defense organizations that offered counsel to civilian whistleblowers targeted with government harassment. Mr. Christopher's paralegal skills and services have contributed to the success of several major California law firms in recent years.

Today Ian Christopher dedicates his time to sharing and presenting research information as the Director of the Mariposa-Pacific Research Institute in Palo Alto, California. He produced, wrote, directed and musically scored the groundbreaking new Crop Circle documentary, "Something Wonderful Has Happened...But It Was Not In The News!"

This unique award-winning program provides a fresh and entirely new way to view the Crop Circle Phenomenon. This remarkable effort represents Ian's directorial debut.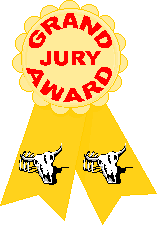 BEST SENIOR MOVIE
YOUNGER, THINNER, SMOOTHER
51:08
Producer, Director: Elizabeth Sher
Director of Photography: Elizabeth Thompson
Editor: Elizabeth Sher, Jessica Sison
Composer: Jon Herbst
Interviewer: Mal Sharpe
Filmed Reenactments: Rachel Libert
I.V. Studios
Berkeley, CA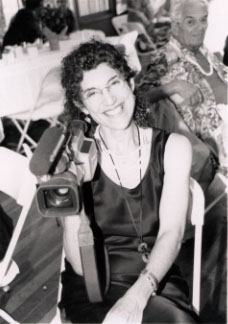 ELIZABETH SHER is a Professor of Art at the California College of Arts and Crafts in Oakland, where she has taught since 1977. CCAC was founded in 1907. Its faculty of practicing artists has included Richard Diebenkorn, Viola Frey, Raymond Saunders and playwrite/poet Michael McClure. Sher's prints and paintings have been shown at four university museums and the San Francisco and San Jose Museums of Art, with solor shows in San Diego, San Franciso, Scottsdale, and Palo Alto. Her work is in the permanent collections of the United States Information Agency, Carnegie-Mellon University Museum, Oakland Museum, Achenbach Foundation for Graphic Arts and the Austin Museum of Art.

She started making motion pictures 1979, and her teaching now focuses on time-based, computer generated and interactive media classes. Since 1979 she has made 25 films and videos, from 4 minutes long to feature length. Forms include children's stories, interviews, performances, TV documentaries, magazine shows and dramas. Subject matter has clustered in two categories: art and health. Her health films have all had a personal element; the topics keep pace with her own life cycle as a woman and mother. Her films have found audiences on television, at universities and festivals from Hong Kong to Edinburgh to Dallas. Titles include "Homenaje a Tenochtitlan", "Juggling", "Celluloid Seduction", and "The Master-Mentor Series." They have earned grants from the Pioneer Fund, The Harris Foundation, the Anheuser Busch Foundation, the NEA's Regional Media Arts Fellowship, and the Union of Independent Colleges of Art.

Having started out as a personal filmmaker, Sher has evolved into a collaborative media professional. She has edited four documentaries and three independent features by other directors. Her 1996 film, "When Women Go Through Menopause, Where Do Men Go?, on male menopause, was the feature presentation on the Women of Vision series on PBS stateion KCSM and has aired in Israel and New Zealand.
STANDARDS
Experimental Doc
25:58
Script, Producer, Director,
Camera Lighting, Sound, Editor: Dan Boord/Luis Valdovino
Fine Arts Dept. Univ. of Colorado
Boulder, CO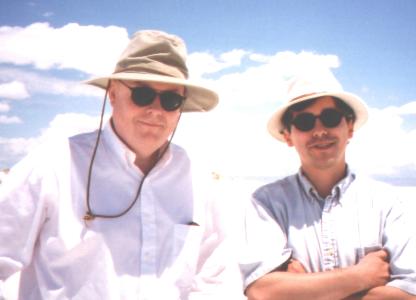 LUIS VALDOVINO received an MFA from the University of Illinois in 1987. Currently, he is Associate Professor of Art at the University of Colorado, Boulder, Co. He has received grants from the American Film Institute, the National Endowment for the Arts, Arts International/N.E.A., Illinois Arts Council, Colorado Council for the Arts, Helena Presents, and The Center for New Television, Chicago.

His works have been included in numerous exhibitions inclusing The Museum of Modern Art, New York, The Museum of Contemporary Art, Los Angeles, The Walker Art Center, Minneapolis, Venice Biennale, Italy, The Stedelijk Museum, Amsterdam, Holland, The Institute of Contemporary Art, London, England, The Reina Sofia, Madrid, Spain, Centre George Pomoidou, Paris, France, Centro Nacional de Las Artes, Mexico City, Mexico, Museo Nacional de Bellas Artes, Santiago, Chile, Berlin Video Festival, Germany, World WIde Video Festival, The Hague, Edinburgh Film Festival, Scotland and Oberhausen Film Festival, Germany.

Valdovino's videos have been presented at the 37th Robert Flaherty Film Seminar, The Kitchen, New York, and broadcasted on "Independent Focus" at WNET and Deep Dish Network, New York. In addition, he has produced several award winning tapes in collaboration with Dan Boord and has curated the programs "La Voz Laina: Latina/o Video Art from the U.S.A." that have been screened throughout Latin America, Europe, and the United States.

DAN BOORD received an MFA from the University of California, San Diego in 1980. Currently, he is an Associate Professor at the Ohio State University in Columbus, OH. He received grants from The Center for New Television, The Ohio Arts Council, WNET/WGBH and the Southwest Alternate Media Project.

His work has been exhibited at eh Whitney Museum of American Art, New York, The Museum of Modern Art, New York, Walker Art Center, Minneapolis, Venice Biennale, Italy, Stedelijk Museum, Amsterdam, Centre Georges Pomoidou, Paris, France, Museo Nacional Reina Sofis, Madrid, Spain, Institute of Contemporary Art, London, England, European Media Art Festival, Osnabruck, Edinburgh Film Festival, Scotland and the Oberhausen Film Festival, Germany. His works are in the collections of The Museum of Modern Art, New York, Walker Art Center, Minneapolis and The Long Beach Museum, Long Beach, CA.

Boord's works have been broadcasted on WNET, New York and WGBH, Boston and presented at the International Public Television Conference in Stockholm. In addition, he has collaborated with Luis Valdovino in several award winning videos.
YELLING MAN
Experimental Doc
28:00
Writer, Editor, Director,Producer
John D. Galusha
Tulsa, OK
Insight into a curious individual who interacts with Tulsans confidently, lightheartedly and often very loudly.
THE INDIGO WISEMEN IN THEIR OWN WORDS
Comedy-Doc
9:22
Co-writer, Director, Videographer, Editor: Paul F. Sullivan
Co-writer, Performer: Dan Cronin
Co-writer, Performer: Chris DeLuca
Co-writer, Performer: Christian Finnegan
Co-writer, Performer: Julius Sharpe
Boy in the Drain Productions
New York, NY
PAUL SULLIVAN is a New York based videomaker and standup comic, a voice for an animated character on the Oxygen TV show "Breakup Girl" and hosts "The Lineup" an internet baseball show on MaxBaseball.com. He was a semifinalist for the 2000 Comedy Central Laugh Riots competition in Boston. His videos are a staple in the New York altrenative comedy scene and have been showcased a the HBO Workspace in Los Angeles. Paul is now a coordinating producer for the Oxygen Media Network.

DAN CRONIN conceived "The Indigo Wisemen". He is a standup comic and has been the featured comic on "Late Night with Conan O'Brien" and will be seen on Comedy Central's "Premium Blend." He finished int he top 5 out of more than 400 comics in the 1999 Comedy Central's Laugh Riots Stand Up Competition and is a contributing writer for "The Late Late Show with Craig Kilborn."

CHRIS DELUCA hosts the variety weekly New York comedy show "Blue at Indigo" where "The Indigo Wisemen" was premiered. As a sketch and improv performer, he is one of the founders of the group "Aura". He was a semifinalist for the 2000 Comedy Central Laugh Riots competition in New York. He has been a contriubting writer for "The Late Late Show with Craig Kilborn" and "Saturday Night Live" and has appeared on "Late Night with Conan O'Brian."

CHRISTIAN FINNEGAN is a New York based writer, actor and comedian. As a stand up he appears regularly all over New York, including the Gotham Comedy Club, Stand Up NY and Carolines. As a sketch performer, he is one of hte founding members of the award winning group "The Non Prophets" and has performed at PSNBC and the HBO Workspace as well as appearing on "Late Night with Conan O'Brian." He is available for Christenings.

JULIUS SHARPE is also a New York bases comedian and performer. He co-hosts "Blue at Indigo" and is a member of the sketch group "Aura". Litlle else is know about him other than his parents were from Massachusetts and his grandparents were probably rumrunners.


HANDI-CAMP
86:00
Youth, Family Dramedy
Director, Producer: Kent A. Bye
Cast as themselves:(adults & volunters) Sean Shea, Jeff Mohler, Bonnie Harrison, Diane Griffith, Gloria Paprich, Sue Reinhard, Gina Goodwin, Kristin Mains, Lenny Otten, Bob Skiner, Don Boden
Rose Pike Productions
Elkridge, MD
HANDICAMP is a unique vacation for adults with mental disabilties. Each adult is paired with a volunteer whose goal is to become a friend to someone who has otherwise been shunned by society. This documentary follows 5 volunteers throughout this stressful week as they face difficult issues and develop life-changing relationships.
CREATING DESTINY
30:00
Scriptwriter, director, producer, editor: J.D. Freedman
Writer: This film is based on the writings of Antonio Almeida, the script was written by JD Freedman
Directors of Photography: Dale Johnson & Scott Mumford
Narrator: Bobby Ellerbee
Music: All original-composed by Travis Cook
New World Vision Productions
Miami, FL
Astounding images shot on location at some of the worlds most spiritually significant sites, inspiring music, and uplifting concepts combine to empower the viewer with a positive energy so strong that it can't help but have a profound effect on every member of the viewing audience that engages in this unique spiritual journey.
YOU AND SOCIAL SECURITY DISABILITY
20:00
Video producer, writer, director: David W. Stamps
Consulting Producer: Ramona Wahpepah-Moore (Kickapoo)
Videographer: Pat Horton
Presentation Host: Cinda Hughes (Kiowa)
American Indian Institute, University of Oklahoma
Norman, OK

The first video to address American Indian and Alask Native populations with information and helpful tips on the claims process of social security disability.
It demystifies the claims process and presents words of encouragement and advice from Native claimants whose claims were approved, often after experiencing frustration and barriers of the claims process.
Although the video is directed towards the Native audience, the information, tips and words of advice are equally applicable and useful for all audiences.
BEHIND THE SCENES OF NIGHT RACE
20:00
Writer, director, editor, co-producer:Oscar D. Ray
Director of Photography: Gloria Reibin
Darkwood Motion Pictures Productions
Muskogee, OK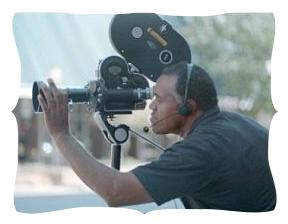 1