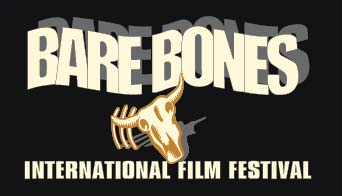 AUDIENCE CHOICE AWARD
BEST MOVIE TRAILER
BLACK MARSHAL: THE HUNT FOR DOZIER
3:00
Western Adventure
TRAILER

Writer, Producer, Director, Actor: Lee Newton
The Black Horizon, Inc.
Oklahoma City, OK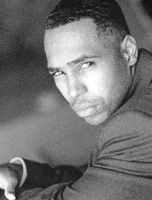 MARLON EDWARDS is a resident of Oklahoma and known by the stage name of Lee Newton, Marlon wrote and co-directed his latest feature film, Black Marshal: The Hunt for Dozier.
The story is based on the life of Bass Reeves, a real life Marshal assigned to Indian Territory by Ft. Smith's Judge Parker, known as the "hanging Judge". Reeves was a policeman in Muskogee, OK until his death in 1910.

Marlon also performed in "I Need Your Help" and "All in Time."

Edwards has played leading roles in television commercials, several industrials for the Oklahoma Department of Human Services, and in the plays The Colored Museum, Hell's Faya, and Oklahoma Voices.

Born in Edmond, OK the son of a history professor and a Minister, Lee's hobbies include acting, writing, directing, playing sports,lifting weights, watching movies and hanging out with family and friends.



SENATOR
3:42
MUSIC VIDEO

Singer: Jen Ayers
Co-Writer, Director: Randall J. Strauss
Producer: Meredith Welsch
Editor: Pete Iannuccilli
Light Street/Honey Tongue
Seattle, WA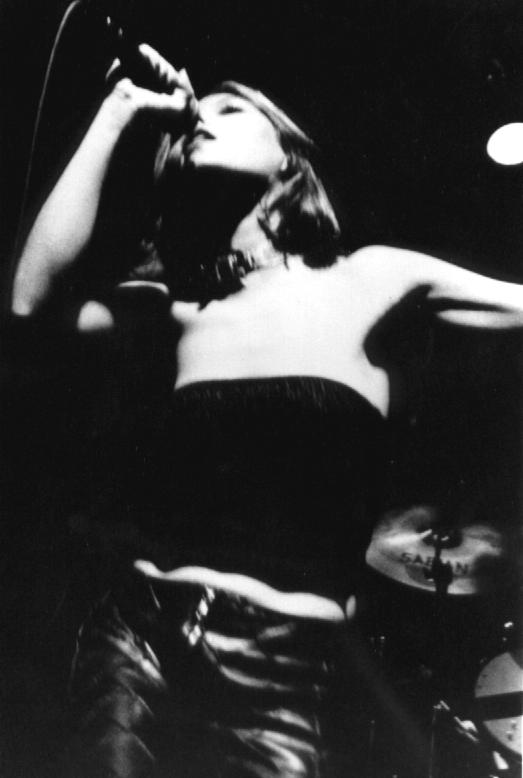 As lead singer for the Seattle-based, rock/pop band Honey Tongue, (winners of the Best New Artist of 2000 nomination by the Seattle Area Music Awards) JEN AYERS stands out as an exceptional, powrehouse vocalist and front person. Often described as a cross between Fiona Apple and The Black Crowes with a little Shirley Manson thrown in, Honey Tongue's sultry, high-energy live show should not be missed. The haunting "Senator" was inspired by the anguish of violence surrounding the Columbine shootings and societal attempts to wrongfully blame music as the "silent killer". Honey Tongue took time out from its summer tour to shoot a music video for this song in NYC. The video successfully captures the unique performance of Ayer and the band's vibrant image.

RANDALL J. STRAUSS began his career in 1993 after attending film school at University of Colorado and the International Film and Television Workshop in Rockport Maine. While still in school he directed the short suspense award winning film entitled "Time Loop".

Mr. Strauss then continued in the film industry and became a 1st AD on more than twelve (12) feature films, including: "Friends and Family," "Jump", "The President's Christmas Tree", and Minotaur", to name a few.

He then went on and became a freelance AD working on numerous music videos and commercial. He is well known in NY as one of the top 1st AD's. Some commercial clients include: "Lifetime", "ESPN", "Showtime", "NBA" "Motorola", "Winston Cup", "WWF", and "Chef Boyardee". Mr. Strauss is working on a various sit-coms for a new network called "The Zilo Network" in which he will be directing episodes for the series "McPhillips and Cruz"

Mr. Strauss then joined forces with acclaimed NY Producer, Meredith Welsch to start their own production company, Thrice Cat Productions. He wrote and directed the comedic short film "Free at Last", which was featured on Ifilm.com and a music video for one of Seattle's hottest rock & roll bands, Honey Tongue. Currently Thrice Cat has several projects in development including the dramatic feature films "Light Street" and "Withstanding Time", the comedic feature film "The Two Fints" and various television and cable projects. Mr. Strauss is currently working on a hilarious black comedy entitled "The Engagement."
KILLING TIME
11:00
Drama
Writer, Director: Carlo DeRosa
Cinematographer: Antonio Grambone
Editor: Alessandro Cerquetti
Cast: Roberto De Robertis, Dionisia Cirasola, Alessandro Satta, Ricardo Scontrini, Luigino Dori
Creative Vision
LaConversion, Switzerland
For some, he is a lonely old man.

For others, he is their next victim.
DANCE OF THE SUGAR PLUM FAIRIES
6:00
Comedy, US Premiere
Writer, Producer,Director, Editor: Jason R. Hujber
Line Producer: Loreena Weideman
Cast: Rob Caleval, Paul Lowey, Mike Ritchie
Big Cow Productions
Co-Producers: Saskatchewan FilmPool, Saskfilm & Saskatchewan Arts Board
Regina, Saskatchewan, Canada
JASON HUJBER convocated from the University of Regina Film and Video Program in 1996. "Dance of the Sugar Plum Fairies" is his second film and his first to be released on 16mm. His previous post-secondary project "The Trivial Adventures of Literal Man Epiodes 4 & 6" was shown in the "Eat My Shorts" program of the 1999 Montreal Just For Laughs Festival in addition to being aired on the Comedy Network and SCN. As well, the film was shown at the 1999 Local Heroes Edmonton Festival and the 1999 Vancouver International Comedy Festival. Jason also served as writer/editor ont eh award-winning "A Soldier's Voice" series (History Television/SCN) produced by Partners in Motion. He currently resides in Regina, Saskatchewan, Canada.
ONE OF THOSE DAYS
7:00
Comedy
Writer, Director, Producer, Actor: Lisa Butkiewicz
Solid Rock Productions
Scottsdale, AZ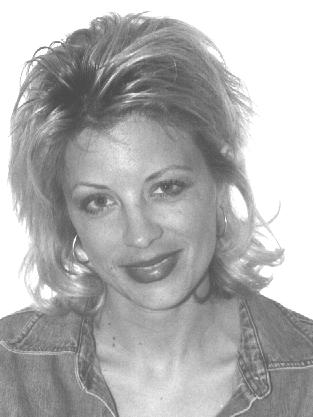 1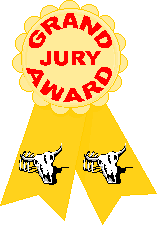 SHORTEST SHORT MOVIE
PARTY GUEST
1:38
Comedy
Writer, producer, director, videographer, editor: David W. Stamps
Party Guest: Robert W. Stamps
One Chuckle Production
Oklahoma City, OK
The only redeeming value of this short, Party Guest, is that the viewer will smile or chuckle at the end of the video, which is always good for one's health.
THREE SPECIALS
7:15
Experimental Comedy
Writer, Co-producer, Co-director, Actor: Pat Battistini
Executive Producer: Harris Fellman
Director of Photography, Co-Director, Co-produer: Cliff Robinson
Editor: Roman Mykytyn
Cast: Debi Derryberry, Darryl Sims, Pat Battistini, Catherine Dao, Benjamin Lum, Cliff Robinson
Scary Baby Productions/Stoneytown Studios
North Hollywood, CA
1
MARTINI
7:00
Comedy
Writer, Producer, Actor: Shaz Bennett
Director, Co-Producer: Chris Gallagher
Editor: Kirsty Kalkhoven
Director Of Photography: Joplin Wu
Cast: Shaz Bennett, Lucia Grillo (Summer of Sam), Jane Lynch (Best in Show), Victoria Delaney (Heroine Addicts), Joe Colligan, Rob Boltin, Todd Truly, Greg Monaghan.
Los Angeles, CA
SHAZ BENNETT was born and raised in Salt Lake City, Utah and is proud of it. Shaz has written and performed four one-woman shows THE SHAZ SHOW, ABRASIVE FAIRY TALES, EYE, LIPS, LEGS, and HUNGOVER ANGEL. These shows have been seen extensively in New York, Los Angeles, and in several spoken word tours throughout the United States including Washington DC, San Francisco and Seattle, sponsored in part by MTV, NOW, Grand Marnier and Hennessey. Shaz has written several screenplays and one Great American novel. Shaz performs monthly at TRUE STORIES and wil be seen in the Documentary "the Big O" about female orgasms.

Shaz is seeking representation and is currently selling a feature film script she co-wrote and has developmed a television pilot based on stories from her spoken word shows.

GALLAGHER/YOUSE have been collaborating for television and feature film for just three years. In that time they have set up "Pretty Ugly", a feature co-production with Laurence Mark Productions at Fox 2000 and have shot two shorts for film festivals 2000-2001 season. They are also developing an action adventure, "Nine Lives Before Thirty", based on the book. Gallagher/Youse are continuing to acquire and develop quality projects for motion pictures and television.

DAVID YOUSE began his career as an actor, studying at the American Academy of Dramatic Arts in New York. His work as an actor includes roles in such features as "The Bloodhounds of Broadway", "The Broken Hearts Club" and "As Good As It Gets". His extensive work in television includes such roles on "The Drew Carey Show", "3rd Rock From The Sun", "Ellen", and five seasons recurring on "Chicago Hope".

CHRISTOPHER GALLAGHER began as a reader for New Line Cinema in New York and works extensively as a producer/production manager for commercials, television and features. Prior to a career in entertainment he worked in the art world, culminating in a post as archivist for the Leo Castelli Gallery in New York.
LAST CALL
13:30
Senior-Drama
Writer, Director: Cami M. Delavigne
Cast: Guy Griffis, Max Wolf, Molly Ward
Brooklyn, NY
CAMI DELAVIGNE attended Columbia University Film School last year after writing for and working in the theater in New York City. With a background in sketch comedy and children's theater (she founded Emerson College's first touring children's theater group, "Team Players" and worked with Boston's "Rough and Tumble Theater Co." "Commonwealth Shakespeare Co.", "Beau jest" and "Kidstage" at the Boston Children's Museum), Delavigne made the switch to cinema in 1999. Since then, she has written and produced a half a dozen odd shorts. In October 1999, she adapted Mikhail Bulgakov's cult classic novel "The Master and Margarity" as a radioplay and produced it to be aired over WFMU radio in NYC. Currently, she is in pre-production on an offbeat series of shorts about competition among women, pregnancy and wrestling. She lives in DUMBO in Brooklyn.
THINKING OUT LOUD
10:00
Dramedy
Director, Co-Producer, Editor: Daniel E. Glasser
Writer, Co-Producer: Matthew Stravitz
Director of Photography: Harry Clark
Co-Producer: Milton Justice
Composer/Sound Mixer: Etan Sekons
Sound Recorder: Erik Hughes
Cast: Matthew Stravitz, Laura Kindred, Lindsay Rae Taylor, Malcolm Devine, Alithea Hadges, Walker Vreeland, Amit Tolia, Mark Hammer, Robin Cowart
Third Wheel Films
Waltham, MA
1
ZAPATOS ROJAS
9:00
Drama
Writer, Director, Sound Design, Cinematographer, Editor:Jon S. Frechette
Producer: Michael Mohan
Production Design: Michael Mohan, Carra Abernathy
Cast: Sean Hankinson, RIcky Rivas, Deborah Marsh, Todd Luoto, Pete Weitzner
Mystery Train Poductions
Orange, CA

JON FRECHETTE, 20, from San Mateo, California, is the recipient of the Cinetech Most Promising Undergraduate Filmmaker Award. A B.F.A. candidate in production at Chapman University, Jon chose Chapman after visiting NYU and the North Carolina School of the Arts, because of "its relatively small student body, as well as a more hands-on education. I was impressed by the fact that from day one, students were given video cameras and sent out to make their first projects. The fact that the editing suites are available 24 hours a day was also a deciding factor in why I chose Chapman."

Jon has been interested in the craft of filmmaking "ever since I can remember. I first began making short videos with my friends when i was nine years old. In high school, I attended seminars at the San Francisco-based Film Arts Foundation, taking classes in sound, cinematography, and editing. I completed my first short film as a senior in hight school, "The Golden Dress" (16mm,color)." The film was featured at the 1999 San Francisco State Twisted Narratives Festival.

In June of 1999, Jon undertook the ambitious project of shooting a 35mm feature film, borrowing a non-sync Arriflex from a friend, using a rented DAT to record sound, and shooting on black & white short ends. Sixteen days later, the $10,000 film was in the can. The result, "Seeing in the Dark," is a psychological study of a troubled locksmith, haunted by a tragic event in his past. Post-production took nine months, and the film has now been entered into several festivals.

His most recent film, "Azapatos Rojos," was shot in three days for his Advanced Film Production class. Once again, Jon served as his own Director of Photography, pursuing a more natural look through the use of available light. Jon wrote the script, "Because I enjoy telling small, human stories, The characters are what I care about most." He employed two or three-camera setups to efficiently cover the action and allow the actors room for improvisation. The result, he feels, "is a more natural, realistic tone."

Jon is now working on his next film, "Narrow", funded through a grant by Cinetech.
THE BUTTER BOMB
31:00
Comedy
Writer, Director, Producer, Editor: J. Smith
Cast: Tim & Maureen Hamilton, Fred Endorf, Kenny Wales
Astoria, NY
J.Smith recently left his job as a commercial real estate broker to focus on making movies. The Butter Bomb was his first foray into movie making and it was shot in the fall of 2000 on digital video to submit with his applications to film school. He currently lives in New York.
AUDIENCE CHOICE AWARD
BEST SHORT MOVIE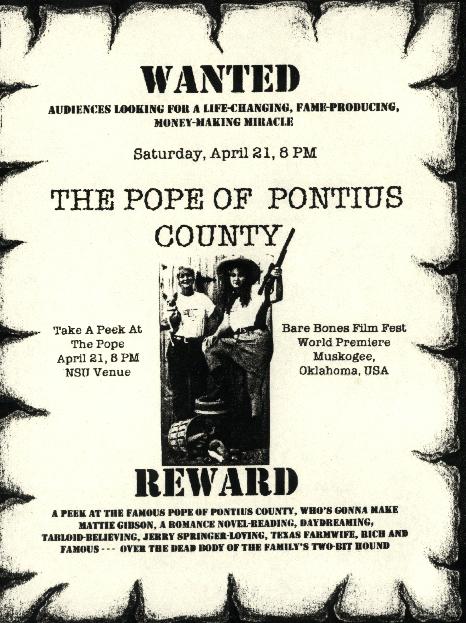 THE POPE OF PONTIUS COUNTY
39:41
Comedy
Writer, Director, Producer: Karen C. Murphy
Cast: Sissy Zander, Rebecca Strange, Essie Mae, Shayne Embry, Cason Murphy, Kristen Abbe
Crew: Cindy Parks, Jeremy Lamb, Codie Yarbrough
Editors: Jen Burke & Jim Rinkenberger
Hole in the Boot Gang Productions
Prescott, AZ
Even as a child, KAREN MURPHY displayed directorial tendencies: overly dramatic, bossy, and prone to temper tantrums. Her directorial debut was at the age of 4 when neighbors Trey and Brad, along with the beloved family pet, starred in her first original play titled "Blackie Boo the Cat Gets Married."

Her creative roots are firmly planned in the Bosque County Conservatory of Fine Arts in Clifton, Texas, where she got otdo it all...direct, act, write plays, design costumes, decorate sets, secure props, take tickets, and stack chairs...for 11 years with the Conservatory's Tin Building Theatre. Two of her comedies, a melodrama titled "Little Hospital of Horrors" and a children's play titled "The King's New Threads", were produced by the theatre while she was a resident of Clifton.

Hollywood film credits are nonexistent since home movies, spoofs mad for family and friends, and two comedy videos titled "Dan the Man Hurlbert" and "Stewardship: The Movie" produced for her current hometown church in Prescott, AZ, are how she honed her skills.

Murphy does not have a film degree from UCLA, but is real proud of her Bachelor of Arts in journalism from Baylor University. She refers to "The Pope of Pontius County" as her first "real" film since she didn't have to shoot her usual one-shot takes, and she was able to film out of sequence...techniques she had not attempted in her previous works. She adapted "The Pope of Pontius County" script from her short story titles "Will Miracles Never Cease?"

"I did this as a learning experience. The major thing I learned is that it is very difficult to make a short with only $10,000. The quality really suffers (as well as the director!).
STUDENT BODIES
20:00
Drama/Horror
Writer, Director, Co-Producer, Editor: Oscar D. Ray
Director of Photography: Gloria Reibin
Darkwood Motion Pictures Production
Muskogee, OK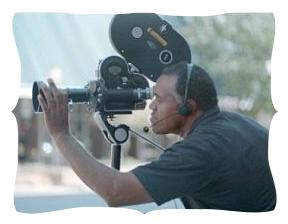 TV News anchor Renee Hernandez gets an exclusive interview with the man police has been looking for over six years for the murders of several college students. Will waiting to call the police cost her more than her livlihood?
OPERATOR
7:00
Romance-Drama
Writer, Producer, Director, Videographer: Munea Redfeather
Cast: Eric Hutton, Jennifer Shaw, Stacy Kukal
RedfeatherLodge Productions
Okmulgee, OK
Born and raised in the traditional homeland of the Lenape Nation NYC, NJ and Delaware MUNEA-ALONGWA REDFEATHER, 44, is also of Cherokee, Shawnee and Melungeon descent.
She has an A.A. degree in Psychology from Southern State Community College in Hillsboro,Ohio, B.A. degree from Wilmington College of Ohio in Social Work, a certificate of Radio and Television from the Ohio Center for Broadcasting.

The courses she has taken through BareBones/Darkwood Film Arts Institute, has led her to produce her first student film,"Operator" starring Jennifer Shaw and her son, Eric Hutton.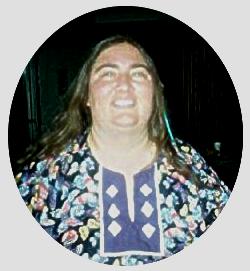 Two lovers find their dreams of happiness destroyed by lonliness and betrayal by a best friend.
SINGLE AND DEALING WITH IT
18:00
Comedy

Writer, Producer: Robert Rowland
Director: Brett A. Hart
Cast: David Briley, Rob Galavan, Jeni Williamson, Christa Nelson, Deanna Galavan
SADWI Productions
Oklahoma City, OK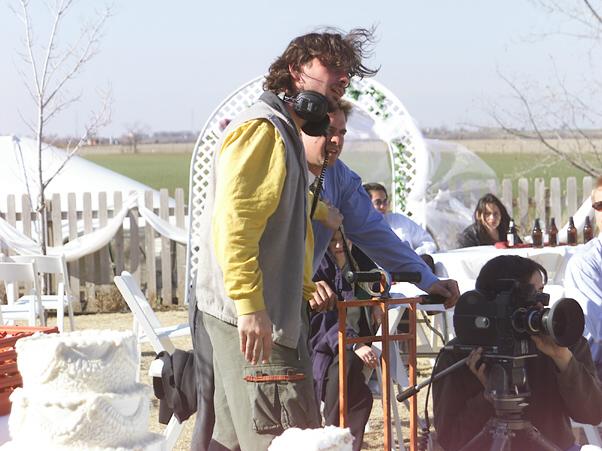 The fact that Brett decided to become a director is not a recent decision. He began with a single 8mm camera when he was in the sixth grade, teaching himself the mechanics of filmmaking. Consequently, by time he was a junior in high school, he had already produced "THE TONE OF MURDER," a thirty minute suspense film that took ten months to complete.

It was during this period that Brett met director Richard Franklin ("PSYCHO II", "BEAUTY & THE BEAST", TV pilot, and "FXII"),who promptly took him under his guidance. From a letter written by Mr. Franklin to Brett: "I was very impressed by your execution of suspense and by your action set pieces...and by the overall design of the picture. WELL DONE